It is the living rooms of these sportsmen that are adorned with the original works of Brett James Smith whose timeless style recalls a simpler way of life and interaction with the outdoors. Smith's masterful compositions appeal to man's most basic instinctual bond: His rapidly declining connection with the awe-inspiring natural world. The paintings offer windows into moments past when our country's vast expanses stretched before us awaiting discovery.
A brief glimpse of these images transports you to that world.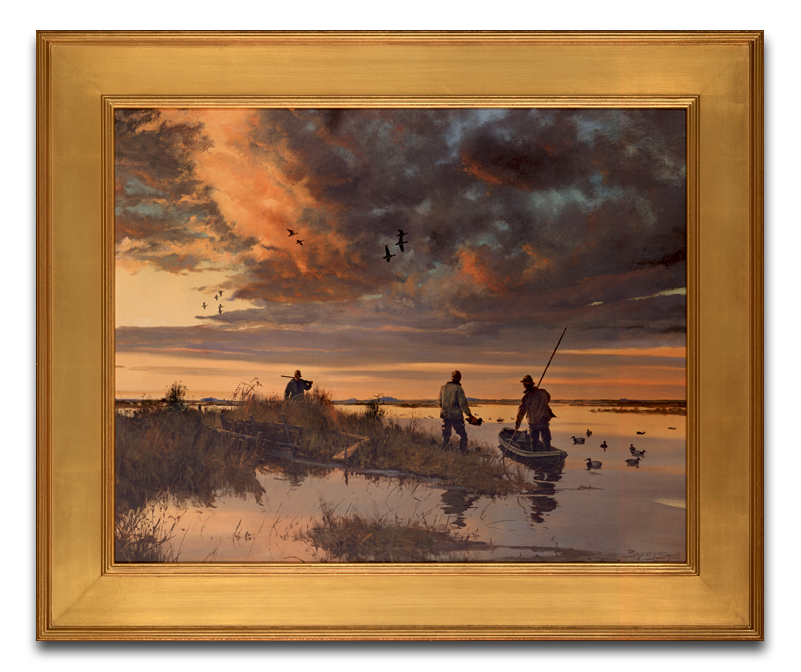 The gicleé is a color-accurate and texturally rich duplicate of original paintings. Whether it's an early morning duck hunt, a sunny day of fly-fishing, or the suspenseful moments of victory shared by hunters and fisherman alike, the gicleé seamlessly reproduces the sentiments of the original using archival canvas and glistening colors.
The reproductions' surfaces respectively match their originals. A gicleé of an original oil on canvas is printed on archival matte canvas, stretched over wooden bars, and can be mounted in a gold leaf frame. A gicleé of an original watercolor is printed on watercolor paper and can be matted and framed. Both options result in reproductions that look exactly like originals.
The following links will take you to the archive of images available for transfer into a gicleé. After making a selection, contact cache@brettsmith.com for sizing and framing options. Gicleés can be reproduced in almost any size and framing options are available.
Click the icons below to enter the Brett Smith Archive.






The Sporting Cache of Brett James Smith
Email: cache@brettsmith.com
Contact the artist:
(985)893-5163
brettsmithart@gmail.com
Site and imagery copyright the artist. All rights reserved.